Theater Stage Scenic Backdrops Painting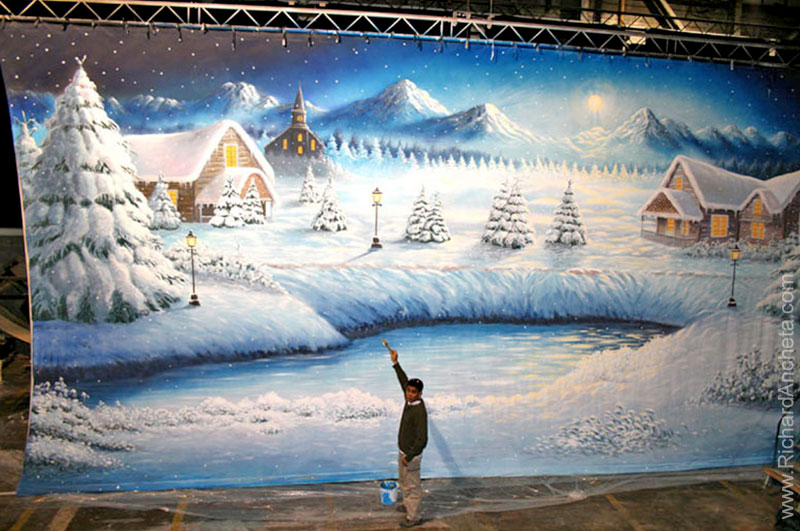 Theater Stage Scenic Backdrops Airbush Painting (40 x 90 ft.)
This theater stage scenic backdrops is an airbrush acrylic painting measuring with the dimension of 40 x 90 ft. on cotton theatrical canvas.
This backdrops fascinates me to create a scenic theater props decoration, this project is for JD International, a company for moveable stages, decors, trussing system and makers of dance floors. My client requires a theme of Canadian winter Christmas scenery which has the Mount Tremblant at background, a frosted typical wooden houses such as chalet, Christmas trees and a church in a far middle ground. The require scene is to create an aura of a fantastic backdrops of snowy and starry night in a Christmas full moon. I start by collecting ideas and elements needed for the scene and did some pencil black and white sketches to visualize the composition.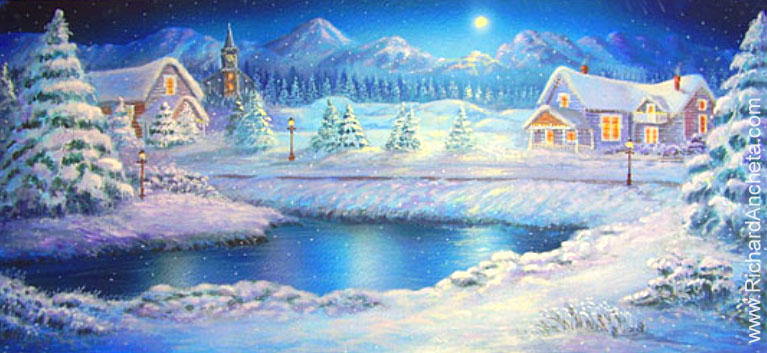 Theater Stage Backdrops - Watercolor Sketch
I did some color study sketches, scenic designs and use a cold blue, grays and balance it with a hot yellows of the lights and highlights.

Theater Stage Backdrops - Airbrush
My rendition is simplified, I used a simple grids enlarging technique in sketching this large scale. With the technology of airbrushing technique, the progress and development of the painting is fast and accurate. The canvas was suspended on a steel iron bars and weighted by a iron pipe tubes with a high power electric pulley mechanism provided by their studio.
About Scenic Artist:
Theatre or theater is a collaborative form of fine art that uses live performers to present the experience of a real or imagined event before a live audience in a specific place. Theatrical scenery is that which is used as a setting for a theatrical production.
Scenic Artist paint backdrops, murals and many other elements on film sets. Working to briefs set by Production Designers, they are usually highly trained artists, with an Art School background, or they may have trained as Scenic Artists for theatre productions. The role requires excellent artistic skills, combined with the ability to work independently, accurately and to deadlines.

Scenic Artists are usually briefed by the Production Designer and/or the Chargehand Painter to produce one or several scenic works for films, such as cloud backdrops, or the backdrop of a city such as New York or London, which is to be viewed out of a set window. They may also be briefed to paint the murals or paintings required on sets, and to touch-up or finish work undertaken by the Painting team. They may be asked to paint complex prop pieces. They are responsible for scheduling their own work, buying in the necessary supplies, and translating the Production Designer's vision into reality.

Scenic Artists must ensure that their work is carried out to the agreed standards and deadlines. They assist at the load in, and strike, of all their work. They must adhere to strict Health and Safety guidelines, carry out their tasks in a safe work environment, and clean up and dispose of any waste in their work area.

Scenic Artists need excellent, comprehensive artistic and scenic skills. They should have a good knowledge of basic scenic painting techniques, layout and paint application skills, and colour mixing. Scenic Artists' abilities should include the traditional fine arts skills of sketching, rendering, and painting. They must also be well versed in techniques such as marbling, ragging, and wood graining and texturing, and should have a good understanding of art history, period styles, motifs and architecture. They must be able to interpret Designers' small-scale ideas, and develop them into full-scale reproductions, perhaps even improving on the design during the process. They must be able to handle scenic painting materials safely. They should be able to work independently, but also as part of a team, and to deadliness.