Hand Painted Graphic Signs

Painting a city of graphics, logo and logotype for a project promoting bicycles and cyclist as a healthy alternatives in the conservation of energy. The renditions are hand painted decorative graphic signs, a precise visual advertising campaign entitled "Transport Alternatif - En mouvement autrement!" located at the basement parking area of Complexe Desjardins at 150 Sainte-Catherine Street West, Montreal.

Transport Alternatif - En mouvement autrement! - graphics, logo and logotype mural painting.
Transforming walls into a work of art start in this corner, representing the logo and logotype of " Transport Alternatif - En mouvement autrement! ".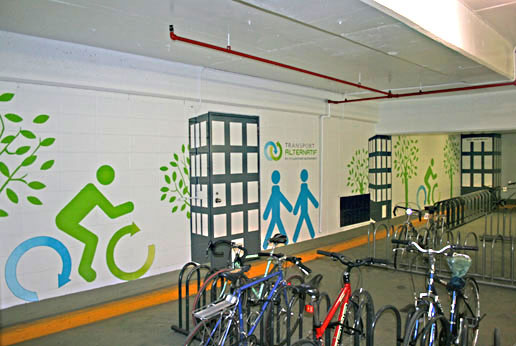 The graphic design of the cyclist logo and creating buildings with depth of one point perspective.
Technical drawing and drafting is to render visually define perfect lines, symbols and perspective using drawing instruments, rulers, curves and compass to create a sharp design details of the sign painting.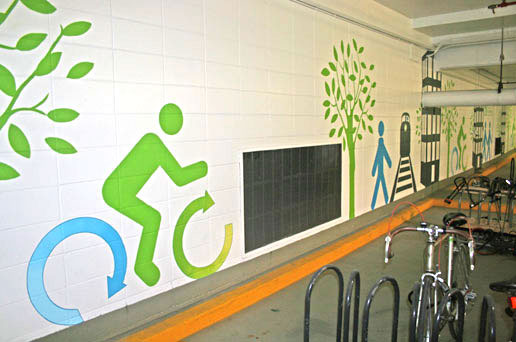 Drawing circle and curves with the precission of compass, painted with opaque and gradated color design.
Sign painting is the art of painting on buildings, billboards or signboards for the purpose of announcing or advertising products, services and events.
Sign painting is a learned craft with a long history. Historically artisans acquired the craft through apprenticeship, although many early sign painters were self-taught. An apprenticeship could last for years, depending on the skill of the apprentice and the knowledge of the master. The skills learned were varied, and some were complex. At the core of the training was proficiency in the manipulation of a lettering brush, this alone could take years to develop.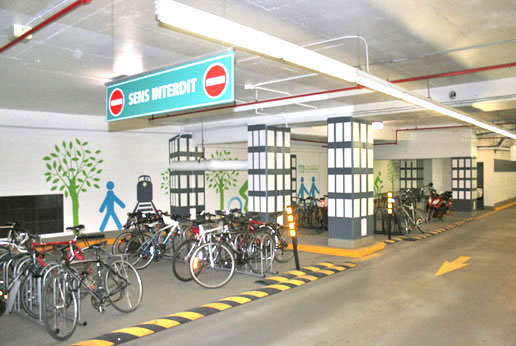 The structure of huge column is painted with a graphic building forming city design.
The structure of huge columns are painted with a graphic buildings, modeling on the walls is the application of one point perspective forming 3d design.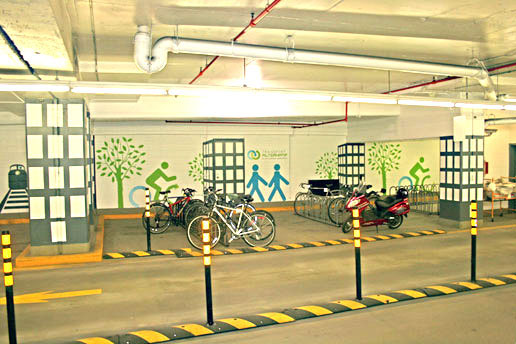 The train is specially design, an accent with symetry design.
Consistency and symetry composition are essential, some accents breaks the monotomy of the design ( like the train ) however the rythm design always fractal to convey the communication design theme.
The aura of design, presenting the project graphic decoration.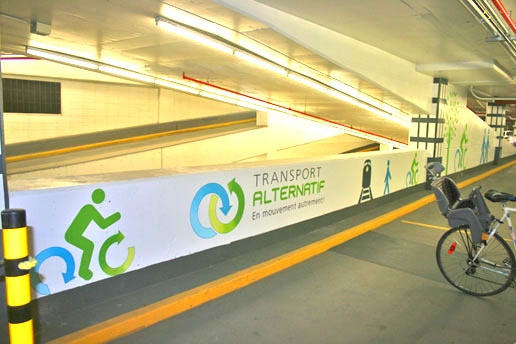 The continuation of mural graphic design at the basement two.
In this section of the basement 2 bycycle parking continues the wall painting decoration.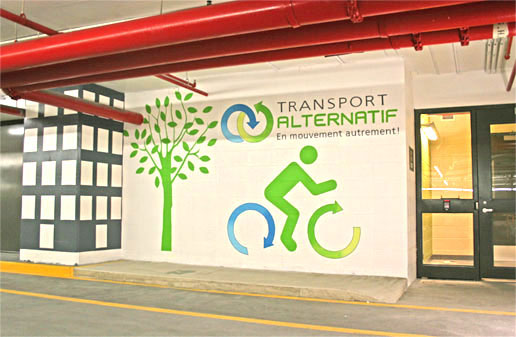 The reception office and cyclist dressing room - mural painting Montreal.
With the motif of cool colors of blues and green balances the warm color of red, giving its decent atmosphere of the corner basement which is the reception office and the dressing room of the cyclists.