WINE CELLAR-Tuscan Vineyard
Trompe-l'œil Mural Painting
These wine cellar Tuscan vineyard is a trompe-l'œil mural painting specially design for my clients wine cellar decoration. Trompe-l'œil is a French word meaning to deceive the eye.
Wine Cellar Mural Painting - Tuscan Vineyard - 90 x 105 inches acrylic on canvas.
Tuscan or Tuscany Vineyard painting is the leading design decorations for wine cellar, because of its magnificent and brilliant beauty and the home of the oldest wine-producing regions. It's splendored beauty have bloomed for countless of generations, the classic quality and enchantment are inviting and with its flavor is a privilege to create such design.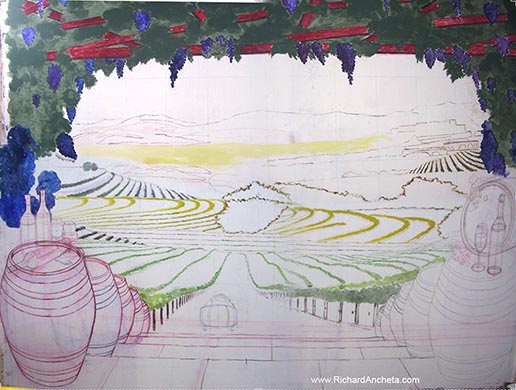 Wine Cellar Mural Painting - Tuscan Vineyard - Stage 1 - Drawing accurate outline sketches in one point perspective with key color tones and base colors.
Creating a trompe-l'œil effect in this painting lies in viewers eye level. I used the height of my eye level to represent as my horizon line and made in the center of the canvas as the vanishing point of origin for all of the extended lines. I draw objects smaller in the middle horizon and scaled increases as the sizes and shapes comes nearer. Same as the color rendition, from the paler background to a vivid value foreground. By making a drawing using one point perspective a two-dimensional space appear three-dimensional.
One Point Perspective Drawing:
A mathematical system for representing three-dimensional objects and space on a two-dimensional surface by means of intersecting lines that are drawn vertically and horizontally and that radiate from one point on a horizon line…
One point perspective is a drawing method that shows how things appear to get smaller as they get further away, converging towards a single 'vanishing point' on the horizon line. It is a way of drawing objects upon a flat piece of paper (or other drawing surface) so that they look three-dimensional and realistic. Drawing in one point perspective is usually appropriate when the subject is viewed 'front-on' (such as when looking directly at the face of a cube or the wall of building) or when looking directly down something long, like a road or railway track. It is popular drawing method with architects and illustrators, especially when drawing room interiors.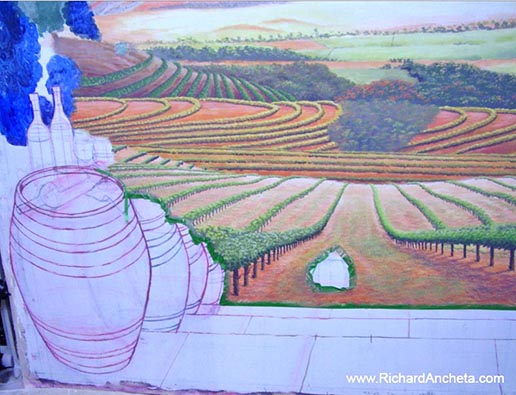 Wine Cellar Mural Painting - Tuscan Vineyard - Stage 2 - Processing the rendition of painting from background to foreground and masking details in separating clean overlapping of objects layers.
I used the technique of background to foreground painting method, overlapping and layering objects as its recede nearer. I used masking tapes for more cleaner and faster result.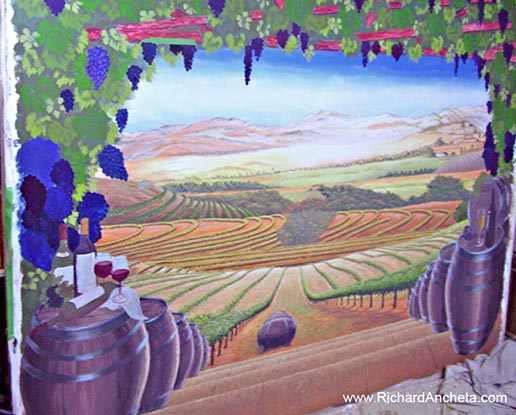 Wine Cellar Mural Painting - Tuscan Vineyard - Final Stage - Detailing, balancing the hot vs. cool color harmonies and finalizing every details.
As the painting progresses with the detailing process, I always considered the unified light effects of the whole painting.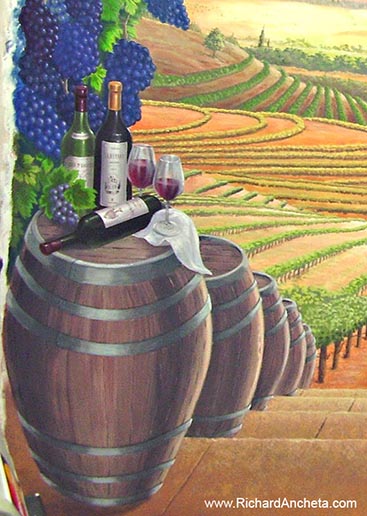 Wine Cellar Mural Painting - Tuscan Vineyard - Details of painting circles and ellipse in the deep perspective.
With the guidance of the one point perspective, the construction of circles and ellipses are easier, by visual and practical decision of freehand

drawing

, circles can manipulate to distort to ellipses that creates depth of dimension picturing 3D effect.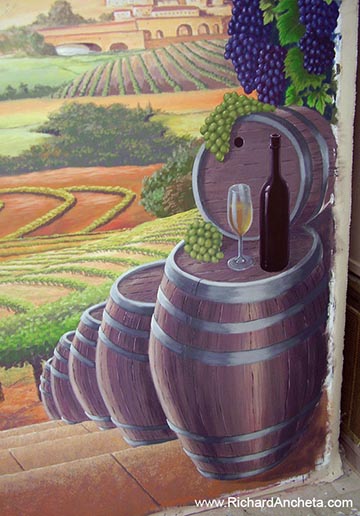 Wine Cellar Mural Painting - Tuscan Vineyard - Details of painting application of fractal designs and the rythm of lines composition.
In creating an intricate details, I used fractal design technique, the idea of a detailed pattern repeating itself. For this composition the technique is obvious from the stair steps, wine barrels, the gardens, the grapes, the leaves, bottles and bushes are fractals. With the symmetry composition, I have created this hand made

trompe-l'œil

mural painting installed in Montreal.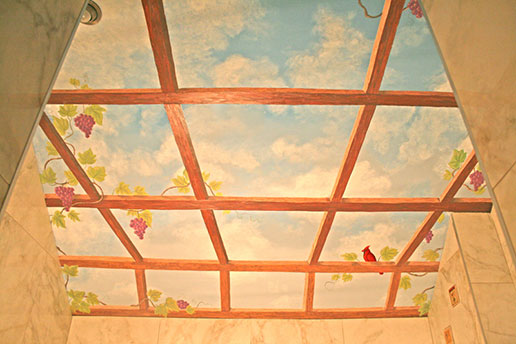 Wine Cellar Ceiling Trompe-l'œil Oil Painting - Montreal