OIL PORTRAIT

Oil portrait painting in superimposed translucent layers, attaining the unprecedentedly rich, glowing colors that a hallmark of the Flemish painting style, method and technique.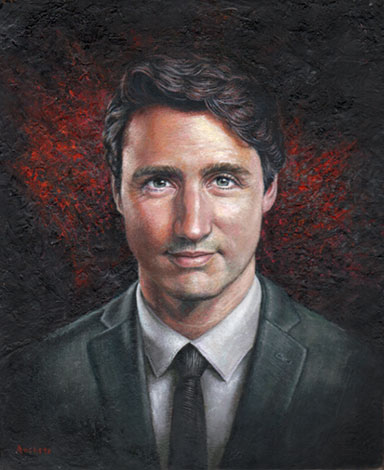 Oil portrait Flemish painting technique -
Artist's model - Justin Trudeau


Flemish Painting Technique
Also known as the Seven Step Method, the Flemish method involves seven distinct steps:

♦ 1. Imprimatura ♦ 2. First umber layer ♦ 3. Second umber layer
♦ 4. Grayscale layer ♦ 5. First color layer ♦ 6. Second color layer
♦ 7. Detailing layer
This method of painting requires a rigid surface on which to work, one that has been primed pure white, as well as a very precise line drawing.
Theme: symmetrical, triangle composition and arrows, golden mean, fibonacci spiral, white & red color, maple leaf abstraction, impasto.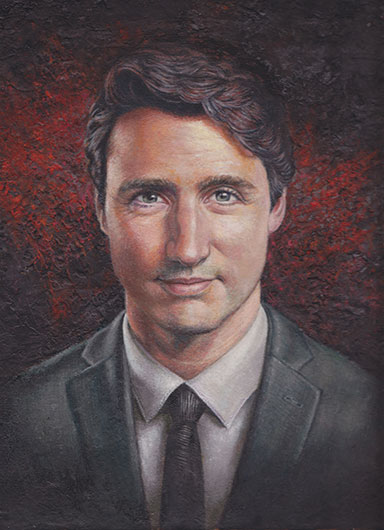 Oil portrait Flemish painting technique - Detailing layer

♦ Detailing layer - final touches, pulling the shades and shadows, the series of glazes illuminates in each layer resulting of overlapping of colors. The hologram of 3D effect and raising the solidity of the lighted form are defined. Some compositions are applied, the blurry edges merging to background, the lost and found of each rhythm line creating perspectives. The design of values is subtle and the bathing of lights is vivid and luminous.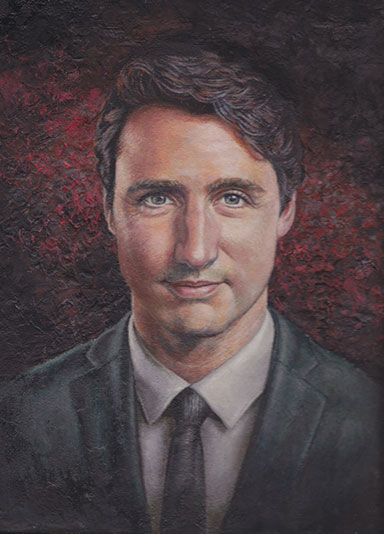 Oil portrait Flemish painting technique - Second color layer
Color hue : cadmium red combination to subdued phthalo turquoise


♦ Second color layer is the application of harmony composition of verdaccio.
Verdaccio is an underpainting technique - and specific paint color - which originates from the Italian fresco painters of the early Renaissance. ... Green is the complementary color to red, and placing these two hues close together or on top of each other in a painting can create dynamic effects.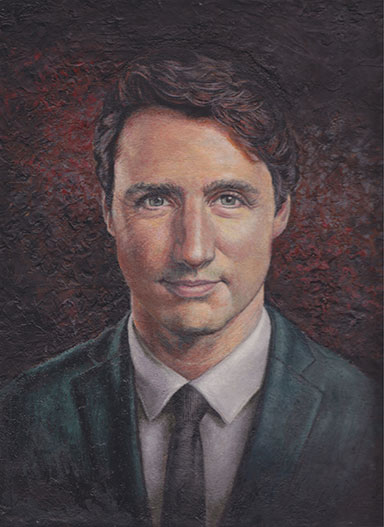 Oil portrait Flemish painting technique - First color layer
Color hue : phthalo turquoise combination to cadmium red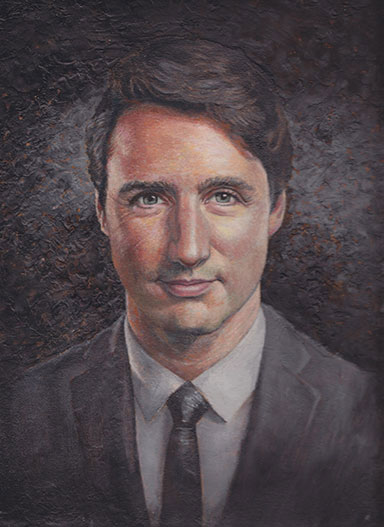 Oil portrait Flemish painting technique -
First color glaze transition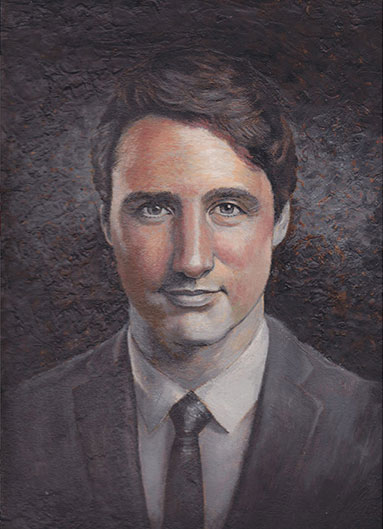 Oil portrait Flemish painting technique -
First color glaze transition

♦ First color layer
First glaze color tones, chroma and hue. This stage is completed rapidly and freely in full session, glazing and brush strokes and patches of color is more or less the final one, but as the colors applied wet into wet instead of being left to dry between layers they will blend together in places of the canvas.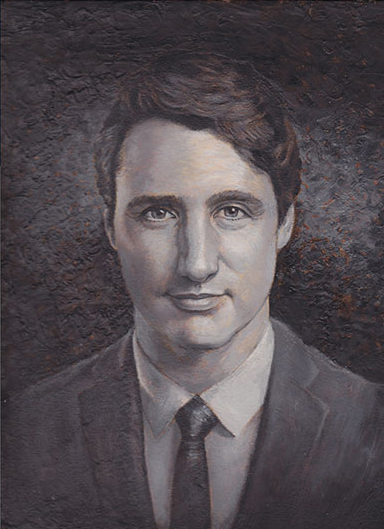 Oil portrait Flemish painting technique -
Modelling in Gray Tones Underlayer (Grisaille) - Monochrome Underpainting

♦ Grayscale layer
Modelling in the gray tones underlayer known as grisaille on monochrome underpainting, a tint is a mixture of a color with white, which reduces darkness, while a shade is a mixture with black, which increases darkness. Both processes affect the resulting color mixture's relative lightness. A tone is produced either by mixing a color with grey, or by both tinting and shading.

Chiaroscuro technique, use of strong contrasts between light and dark, usually bold contrasts affecting a whole composition. It is the use of contrasts of light and to achieve a sense of volume in modelling three-dimensional.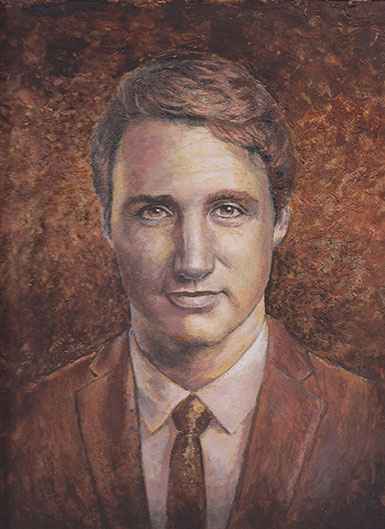 Oil portrait Flemish painting technique -
- Imprimatura - Umber layers
Impasto and Palette knife effects
♦ Umber Layer
Shades and shadows in umber colors and sepia tones. Once the imprimatura had set, transparent glazes were applied in the areas of shadow with soft hair round brushes. Hog-bristle brushes were sometimes used for scrubbing the paint on in thin layers, or for glazing, among other effects. Transparent paint was then added to the shades and shadows, variation of colors, burnt umber, raw umber, beige, taupe, khaki, chestnut, van dyke brown, amber, sepia, ocre and sienna. The light source and highlighting were always the final step and always opaque.
♦ Imprimatura
The texture of the canvas is prepared with a series of textured effects of rough tangible palette knife textures, this texture which is underground, helps the solidity of the form.
Imprimatura - toning the canvas, is a hallmark step in the Flemish technique, this toning does several things in the oil painting (mixtures of white, a tint of transparent orange and brown), it illuminates and intensity translucent effect on the top coat stage of the oil painting.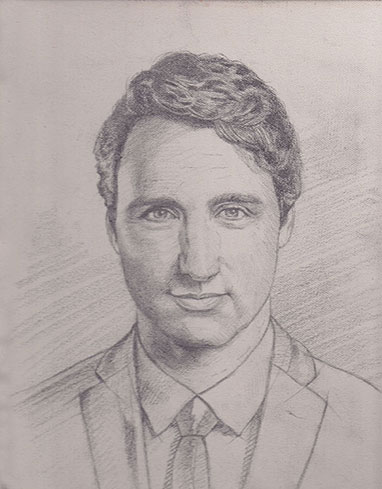 Oil portrait Flemish painting technique -
Pencil drawing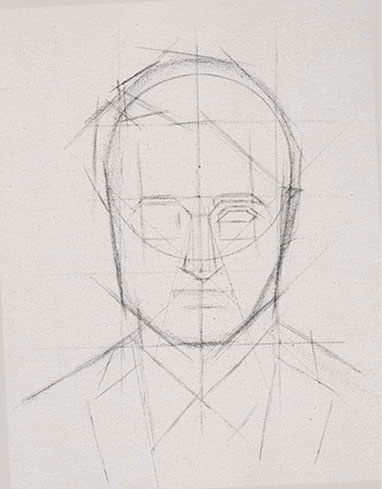 Oil portrait Flemish painting technique -
Pencil drawing - envelope geometry

♦ Construction Lines
Envelope Method - block-in, the mathematics of envelope geometry of portraiture drawings are defined and proportions. From the ball of cranial represented by perfect cirle and locating the center line projections, leads the precise building of envelope geometry. The negative surface and the silhouette drawing of lines of angles are always proportionate to each envelope, placing each details in a position.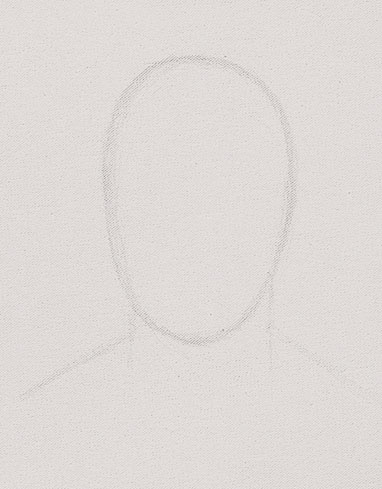 Oil portrait Flemish painting technique -
Pencil drawing - layout basic shape

History:
Jan van Eyck was a Dutch painter from the County of Loon active in Bruges. He is one of the early innovators of what became known as Early Netherlandish painting, and one of the most significant representatives of Early Northern Renaissance art. He developed a layered method of painting known today as the Flemish Technique.
Flemish technique - Pertaining to or designating the style of art, especially paintingly, as developed principally in Flanders and northern France during the 15th century, chiefly characterized by sharply delineated forms, naturalistic proportions, clear, usually cool colors and the use of perspective.
The Flemish or Flemings (Dutch) are a Germanic ethnic group native to Flanders, in modern Belgium, who speak Flemish Dutch. They are one of two principal ethnic groups in Belgium, the other being the French-speaking Walloons.
Word of the Flemish technique soon spread; it was quickly adopted by the German artist Albrecht Dürer after he travelled to the region, and by Antonello da Messina, who was thought to have studied in Flanders. Giovanni Bellini picked up the method from Antonello, and thereafter schooled Giorgione and Titian. Flemish oil painting expert Rogier van der Weyden travelled to Italy in approximately 1449 and aided a number of Italian artists, such as Piero della Francesca. The adoption of oil painting was controversial, however, and decried by some, including the famous Michelangelo, who refused to paint in oils, and is said to have ridiculed Leonardo for taking up the practice. Titian (Tiziano Vecellio), on the other hand, was an early fan of the method, and innovated greatly upon it.
Painting Materials:
Winton Oil Colour:
Bright and beautiful, range of 47 colours all of the tones have been carefully made to bring out the best of each pigment, can create bold and vibrant artworks.
Palette Knifes:
A palette knife is a blunt tool used for mixing or applying paint, with a flexible steel blade. It is primarily used for mixing paint colors, paste or for marbling, decorative endpapers. With the range of sizes and styles, it gives an infinite texture effects.
About:
Oil paint - a type of slow-drying paint that consists of particles of pigment suspended in a drying oil, commonly linseed oil. The viscosity of the paint may be modified by the addition of a solvent such as turpentine or white spirit, and varnish may be added to increase the glossiness of the dried oil paint film. Oil paints have been used in Europe since the 12th century for simple decoration, but were not widely adopted as an artistic medium until the early 15th century. Common modern applications of oil paint are in finishing and protection of wood in buildings and exposed metal structures such as ships and bridges. Its hard-wearing properties and luminous colors make it desirable for both interior and exterior use on wood and metal. Due to its slow-drying properties, it has recently been used in paint-on-glass animation. Thickness of coat has considerable bearing on time required for drying: thin coats of oil paint dry relatively quickly.