Terrace Mural Project:
Trompe-l'œil Painting Technique

Every custom trompe-l'œil murals are created with the individual projects, from initial sketch to completion. It's important to proceed in a series of steps of studies to create a well designed painting that make the procedure faster. Herewith are the three simplified steps to the development of speedy projects.
2
Preliminary Design:
After the final sketched and revisions, the application of color harmony, it can be colored by airbrush application, watercolour painting, colored markers, computer design programs like Photoshop and Corel Draw or more high-tech 3D softwares like 3DMax or Maya are the options.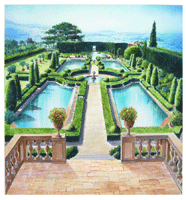 3
Application of trompe-l'œil Illusion:
The final rendition is the scaling and enlarging of the colored sketch to the desired size. Perspective will be adjusted in the normal eye level, as if you are standing in the front of the view, here the design is strech to fill yhe fitted area. After sketching, Istart to paint the background as if it is painted in series of layers. The farthest detail is in the misty effect and impressionism, the middle ground - gradually detailed, and the foreground are sharp, detailed and concise.