Mediterranean Mural
Flower Garden and Seascape Painting

The golden shores of the Mediterranean Sea with its sensational garden scenery are impressive, endless golden beaches, lush vegetation, fantastically wild mountains plummeting into the azure sea and the ancient ruins appear all around the coast line are majestic.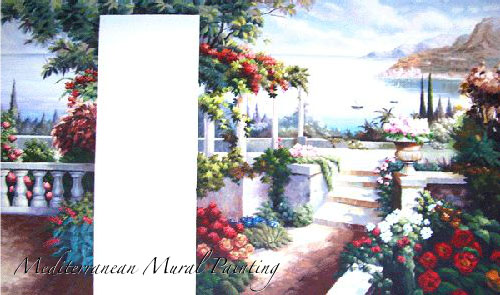 Mediterranean Flower Garden and Seascape , Mural 114.25" x 180"
The Mediterranean Sea is a sea connected to the Atlantic Ocean surrounded by the Mediterranean region and almost completely enclosed by land - on the north by Europe and Anatolia, on the south by North Africa and on the east by the Levant. The sea is sometimes considered a part of the Atlantic Ocean, although it is usually identified as a completely separate body of water.
This mural painting with a motif of Mediterranean flower garden and seascape was fabulous, the mediterranean views design style is one of the most popular throughout the world, this mural with a beautiful white limestone balcony and the flower garden gives a relaxing and joyful feeling. Looking through the horizon is the one of the most beautiful and picturesque places of seascape - with the Cyprus ports were the boat and ship docks, with an assorted exotic plants like banana and pine trees are exotics, the cool deep blue waters of the Mediterranean seascape is refreshing and enchanting.
This mural painting was fit to harmonized the white painted wall and interior design of the owner. It was painted in the canvas and installed at the dining room ( the rectangle space is the fitting of the door entrance ).