Sky and Clouds Ceiling
Mural Painting

Sky and clouds on a ceiling mural painting is a popular decorating technique for bed and furniture store, display showrooms and nurseries. To make the clouds realistic I choose a one light source and applied the principles of shades and shadows.
I need to create a 4:00 P.M. genre and show how real clouds appear from the ground if you were gazing up at them. I used gradated light delft blue and light sky blue to create depth of perspective as the backgound of the clouds ceiling painting. I applied glaze white and opaque white for the highlight to create clouds shapes and scatered it in ceiling following clouds types and cloud formation like cumulus, nimbus, cirrus and stratus. To look the clouds not so tight, I leave some blank space as for the breathing space.
To complete the clouds effects near to dawn I applied a series of glazed of light pink and light yellow as a shadow overlaping each other that create two more values of light orange and light violet.
This large bridal showroom of Ami-Fer is located at 6782 St-Hubert Street (one of the most beautiful and busiest street of Montreal - must see this place).The ceiling measures of 110 by 25 feet, to start the design, I collected a series of photograph of clouds that I will use as a reference to create a layout of sky and clouds composition. I used the photoshop skill of impressioning a quick preliminary study.


Sky and clouds ceiling painting - photoshop-design
After I visualized the design, I paint a small piece painting studies of creating the transition of the sky and clouds impression as how it will look like in the ceiling.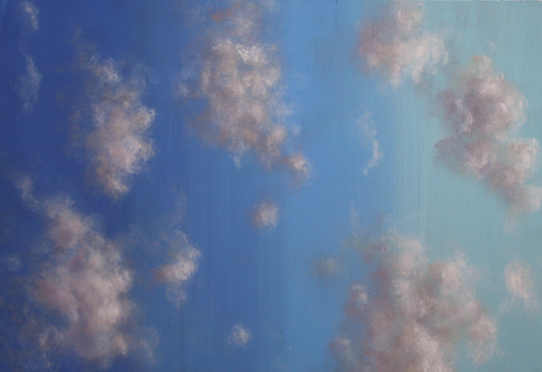 Sky and clouds - painting sketch design

Clouds are frequently included in photographs and in artwork portraying the outdoors, nature, or just the sky itself. Clouds are also commonly painted as backdrops on murals, walls and ceilings within the home. Creating realistic-looking clouds with paint can be a tricky task to accomplish, but with the right techniques, you can decorate any surface with an appealing pattern of clouds.
Pointers to remeber when creating sky and clouds ceiling mural painting:
• Make sure that the paint has just enough water so that the paint strokes are not extremely light or extremely dark.
• Create a rough sketch of what the clouds to look like and where you want your colors to go.
• Precision and sharp details are not important due to the fluffy, formless nature of the cloud. You should only use a few different colors and try to avoid over painting the picture as clouds that are too dark or bold tend to look less realistic.
• Using light layers of color over darker shades is a nice touch for storm clouds.

Murals/Walls
• Clouds painted on walls or ceilings should be done with precision to create the most appealing look.
• The surface should be first initially painted in a shade of light blue for the background. You can then take a sea sponge and dip it into a mixture of clear glaze and white paint and use that to create the actual clouds.
• With the sea sponge, lightly dab spots to create clouds on the wall.

Wet-on-Wet
• This technique of cloud painting simply involves painting on an undried painted surface to best enable a blending of colors. This technique is very useful in creating faux clouds since it enables the strokes to create soft edges easily. Just like with painting on walls, you will initially paint the background light blue, but before it dries, create white clouds and blend the edges with a brush or sponge. Your end result should be clouds that look as though they are made from cotton or wool.