Autumn Landscape Mural Painting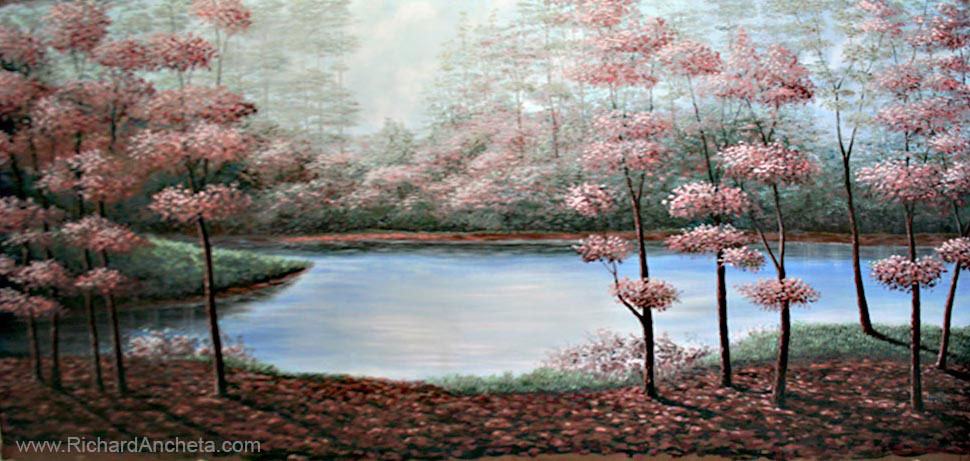 Landscape mural painting in autumn with brown, black, pink, blue and light green combinations, acrylic painting on canvas.
This mural painting was made in my studio and installed to the mural for bakery decoration, perfect matches for the company colors of cakes and chocolate browns. This autumn landscape mural painting was referred and inspired by the landscape artist Romanello - famous for breathtaking and incredible sceneries.

Landscape Composition:
The design composition of landscape painting is mainly divided with three main groups, such as land, water and the sky. The ambiance and mode of the painting is determine according to sunlight position, it influences the shadows, contrasts and colors. One of the most crucial aspects for getting a landscape painting to look authentic or realistic is to have the direction of the light consistent across all the elements in a painting.
Side or low lighting is where the light hits objects from one side. In nature, side lighting occurs at early dawn and sunset, producing long shadows.

Balancing the hot and cool colors are important, the land mass are detailed with texture while cool colors stays calm and bare. The river banks are scattered with dry leaves of exiting colors such as brown, pink, maroons and chocolate browns. The hot autumn colors are balance by river bed and sky which serve as the breathing space of this landscape composition.
The colors and light that are used for painting autumn landscapes make an artwork easily identifiable for the viewer, making the painting more realistic. These concepts is mastered with careful observation and practice.
Warm hues are colors that contain a bit of yellow or red. Since orange is a secondary color made of yellow and red, any orange will work for autumn paintings. This is also true for tertiary colors (colors that are made by mixing a secondary and primary color) such as gold and browns.
Trees are not colored with brown trunks and leaves that are simply green if it's summer, red if it's autumn, or absent if it's winter. The 'secret' to painting believable trees is an understanding of the underlying structure of trees complemented by observation of different species.