Paris Mural Painting

This mural painting was made in May 2010 of 9 x 27ft. was designed for the interior decor for Stock Exchange Tower (La tour de la Bourse) to were it was installed at the basement 2 in front of the elevator entrance located at 800 Place Victoria, the Stock Exchange Tower is Montreal's third-tallest building and was connected to the underground city of Place-Victoria Metro.
The clients idea is to project a trompe-l'œil perspective view of street scene in Paris and on the far vanishing point is the great Eiffel Tower.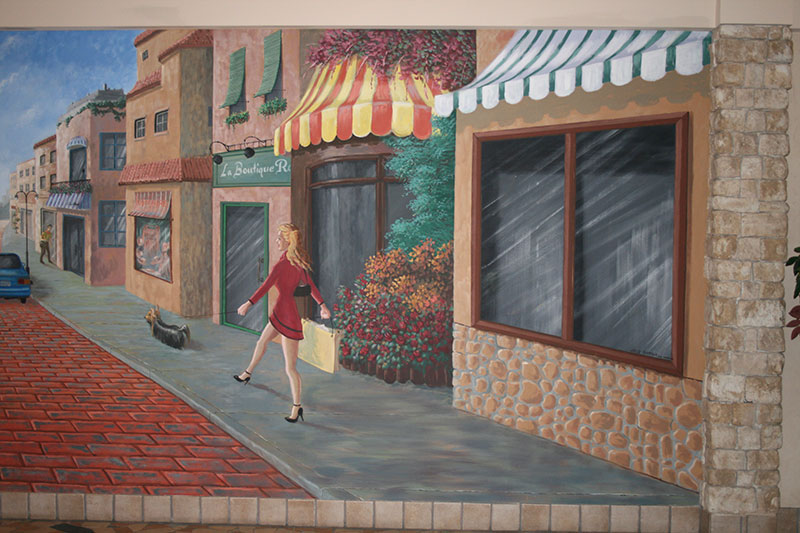 The client choose buildings of cafe's and boutique to fit on a one point perspective design. Below is the sketch rendition in watercolor design.



Paris street scene - watercolor sketch design

The sketch needs rough details of intricate old buildings and the balance of the designed between left and right area, between hot and cool colors. The half right design is with the series of boutique and an accent of a lady shopping with her yorkshire terrier and the half left was a cafe's with people sitting in front of it.
About Eiffel Tower:

The Eiffel Tower is an iron lattice tower located on the Champ de Mars in Paris. It was named after the engineer Gustave Eiffel, whose company designed and built the tower. Erected in 1889 as the entrance arch to the 1889 World's Fair, it has become both a global cultural icon of France and one of the most recognizable structures in the world. The tower is the tallest structure in Paris and the most-visited paid monument in the world; 7.1 million people ascended it in 2011. The tower received its 250 millionth visitor in 2010.
Embed Adobe Flash Player

The tower stands 324 metres (1,063 ft) tall, about the same height as an 81-storey building. During its construction, the Eiffel Tower surpassed the Washington Monument to assume the title of the tallest man-made structure in the world, a title it held for 41 years, until the Chrysler Building in New York City was built in 1930. Because of the addition of the antenna atop the Eiffel Tower in 1957, it is now taller than the Chrysler Building by 5.2 metres (17 ft). Not including broadcast antennas, it is the second-tallest structure in France, after the Millau Viaduct.