Jacuzzi & Spa
Swimming Pool Seascape Mural - Oil Painting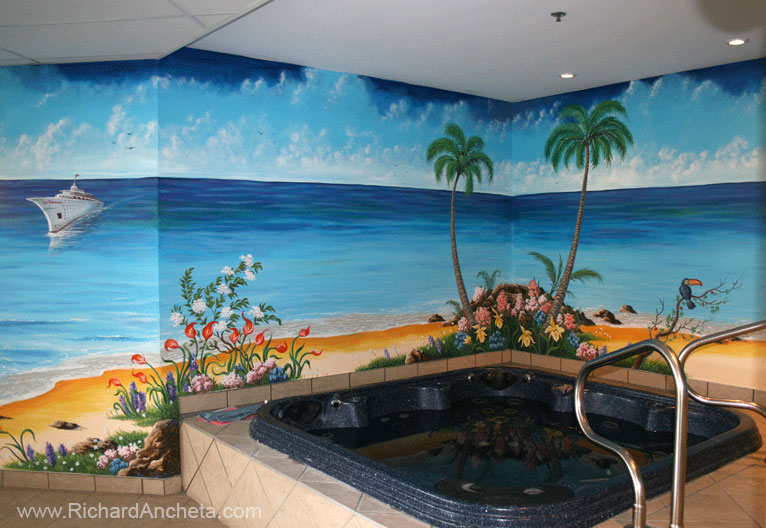 Jacuzzi and spa swimming pool mural with Caribbean seascape painting decorated with palm trees, calla lilies, orchids, flowers and toucan.
The mural painting design of this jacuzzi and spa is an exotic scenery, a seascape painting with clouds and deep blue sea and adorned with flower paintings of vivid colors, harmony from its tile beige design.
Jacuzzi and Spa are classic baths, relaxing and the art of comfort, the technology and system of underwater jets of water is healthy massaging the body. The bubbling pool and steam-baths offers treatment of hydrotherapy. Adding the scenery design is the illusion of complete bath experience.
The murals are decorated surround with the continuous panoramic view of the Caribbean sea of its exotic plants like palm trees, calla lilies, orchids, wild flower and colorful bird toucan sitting in a driftwood with vines of red berries. Flower paintings are the most beautiful artwork for bathrooms, it captivates the human imagination, bringing the colors of mother earth and natures joy for our eyes. Finally, presenting with artist touch gives a magical illusion of excitement.
With the humidity and water evaporation the quality and type of paint is very important, I used oil based alkyd polyurethane enamel and coated with varnish to protect and bounce mist and moist.