TRANSLUCENT SIGN VINYL
Graphic Design

Signboards of translucent sign vinyl are high visible specially in night reflections with superior performance in weather conditions.

Translucent sign vinyl films diffuse light as it passes through the film. This gives it a softer, more matte-finished look. Translucent Sign Vinyl is tested for weather conditions better and to have superior color consistency, whether viewed by day or seen backlit at night. It's also easier to color-match to most corporate color schemes. Translucent Sign Vinyl is recognized for being readily applicable to a wide range of substrates, including flexface sign systems and various acrylic plastics.

Indian restaurant - vinyl translucent signboard.
The graphic design of this signboard stands with the hottest rendition of fonts and vibrates to emphasis product color and balancing motifs of native designs.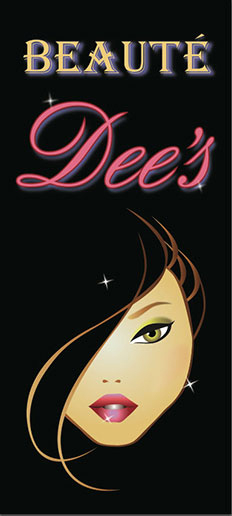 Beauty Salon - vinyl translucent signboard.
The graphic designing of this signboards are define and simple, poping out neon color designs.
Mounting Substrates:
Here are the most common mounting substrates for sign vinyls: coroplast, foamcore, gator board, plexiglass, lexan / polycarbonate, masonite, magnetic material, styrene and sintra.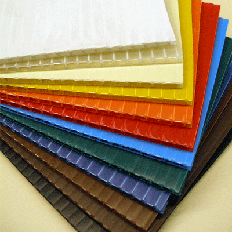 Coroplast
Coroplast:
Coroplast is a brand name of corrugated plastic and a registered trademark of Coroplast, Inc., a member of the Jim Pattison Group of companies. Because of the success of this brand, it has become a generically used tradename and many people in North America today refer to all corrugated plastic as "coroplast".
Coroplast is an economical corrugated plastic material ideal for temporary outdoor signs lasts up to 2 years. The 4mm Coroplast comes in different colours, it is lightweight and is ideal for hanging signs from ceilings or from windows using suction cups.
The 6mm and the 10mm white Coroplast are strong and can be used for "A" frame signs. Vinyl lettering and digitally printed images can both be applied to choroplast.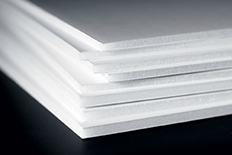 Foamcore
Foamcore:
Foamcore or Foam board is a very strong, lightweight, and easily cut material used for the mounting of photographic prints, as backing in picture framing, in 3D design, and in painting. It is also in a material category referred to as "Paper-faced Foam Board". It consists of three layers — an inner layer of polystyrene foam clad with outer facing of either a white claycoated paper or brown kraft paper. It's a virtually weightless board made of a polystyrene foam core laminated on both sides with a white coated-paper stock. It is a great mounting board for single use presentations, posters or for table-top displays and signs. However, it can warp over a period of time. It is recommended only for short term use. Foam core can be scored and folded for three-dimensional work. Standard foam core is 3/16" (5 mm) thick. A thinner 1/8" (3 mm) board is available in select sizes.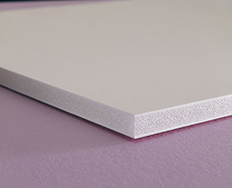 Gator Board
Gator Board:
Gator board is a lightweight, rigid display board with a polystyrene core and white surface. The core is very dense and firm and the surface is a wood fibre veneer laminate impregnated with resin for water resistance. It cuts cleanly with a knife, saw, or router. Gator board may be used for most durable displays, signage, and mounting surface. Gator Board is more rigid and much stronger than Foam Core and designed for a long term use.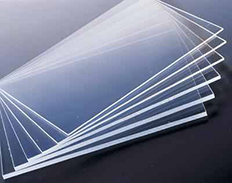 Plexiglass
Plexiglass:
Plexiglass is mainly used for back-lit or front-lit signs, although it can also be used for other purposes. Plexiglass has a very glossy finish and if lettered from the back looks very sharp. Both Digital Image and Vinyl Cut-out Letters can be applied to this material. Plexiglass is a fragile material and can break if care is not taken. Plexiglassß is available in 1/16" (1.5mm), 1/8" (3mm), 3/16" (4.5mm)(minimum for back lit signs) and 1/4" (6mm) thickness in white, coloured or clear.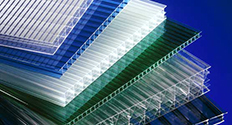 Lexan/ Polycarbonate
Lexan/ Polycarbonate
This is an extremely strong material and is an alternative to Plexiglas. Lexan is more expensive than Plexiglas. Lexan should be used where breakage is the biggest concern. Plexiglas will break if you throw a rock at it whereas Lexan will not break as easily. The thickness' available are 1.5mm, 3mm, 4.5mm, 6 mm for both sheets and roll stock. Both Digital Image and Vinyl Cut-out Letters can be applied to this material.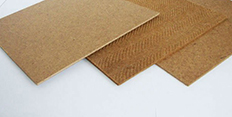 Masonite
Masonite:
Masonite is a tempered stiff hardboard. It comes in 1/8" and 1/4" thickness' and has the same super smooth baked enamel painted surface as MDO plywood. The edges on masonite may need to be coated to provide proper sealing effect. Masonite is ideal for real estate, contractor and job site signs. It is fairly heavy and withstands weather very well.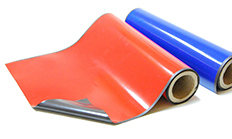 Magnetic Material
Magnetic Material:
Magnetic sign material is available in two thickness. The thinner one, or 0.020 (0.58mm), is used for fridge magnets. The thicker one, or 0.030 (0.76mm), is used for vehicles. Both Digital Image and Vinyl Cut-out Letters can be applied to this material. Standard uses; Business Cards, Vehicle Graphics, Changeable Signs etc.

CAUTION: It is very important that the magnetic sign should be removed on a regular basis to clean the back of it as well as the vehicle's surface where the sign is applied. The area where the magnetic sign is to be applied should be as flat as possible, otherwise it may fly off while driving. The magnetic sign should never be used on the highway if possible. At high speeds, the wind force can lift a corner and the sign may blow away. The maximum size recommended for vehicle signs is 18" x 24".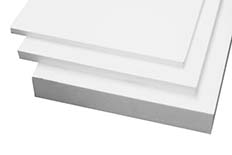 Styrene
Styrene:
Styrene is smooth and bright white, ideal for indoor signs, especially for trade shows. It is available in different thickness, 0.020, 0.040 and 0.060. Styrene yellows slightly with prolonged exposure to sunlight and it scratches easily. Digital images and Vinyl lettering, both can be mounted to styrene.
Sintra:

Sintra is a versatile fire-resistant foamed PVC material (lighter than solid plastic) that is also water resistant, and resistant to certain chemicals. It provides a non-warping mounting surface that maintains uniform color throughout. It is available in different colours and sizes. Digital images and vinyl lettering, can be mounted on sintra.