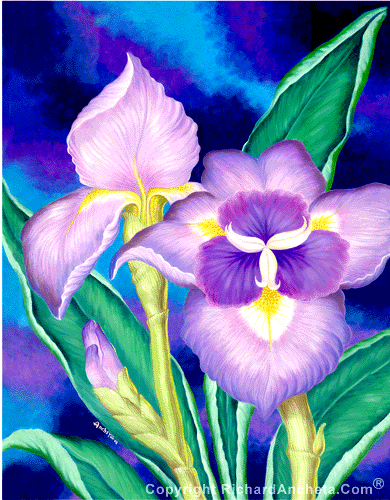 Iris - Flower Painting

Iris with violets-purple heart shape fan petals harmonies of yellows, yellow-greens and blue-greens, heart shape composition, 3 stages of bud, blossoms and flourish, textured backgrounds - oil painting on canvas.
ABOUT Iris

Iris is a genus of 260–300 species of flowering plants with showy flowers. It takes its name from the Greek word for a rainbow, referring to the wide variety of flower colors found among the many species. As well as being the scientific name, iris is also very widely used as a common name for all Iris species, though some plants called thus belong to other closely related genera. A common name for some species is 'flags', while the plants of the subgenus Scorpiris are widely known as 'junos', particularly in horticulture. It is a popular garden flower.
The often-segregated, monotypic genera Belamcanda (blackberry lily), Hermodactylus (snake's head iris), and Pardanthopsis (vesper iris) are currently included in Iris.