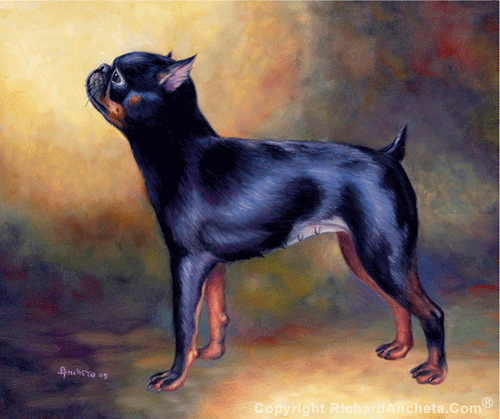 Black Petite Brabanšon Oil Painting

Black petite brabanšon, standing side view profile, dog with black silky shinny hairs and golden brown chest, oil painting on canvas.
ABOUT Petite Brabanšon

The Petit Brabancon (Small Brabant Griffon) is a toy type of dog with a short smooth coat that can come in black, black and tan, red, belge color. The Petit Brabanšon is short-coated. The hair is harsh, flat and gleaming, and at most 2 cm long. The Petit Brabancon is usually about 3,5 to 6 kg. The head is the most notable characteristic of the Petit Brabancon. This breed has rounded head that is large but proportionate to the body. The large and round brown eyes are set well apart. Expressive black rimmed eyes give the dog an almost human like expression. The foreface including the nose is very short : it must not exceed 1.5 cm. Small ears are set on high. The ears may be cropped or uncropped.
The Petite Brabancon has a well proportioned square shaped body. This is a toy breed but the body is compact, muscular and well boned, never giving the impression of being delicate. The dog's short back is straight and strong, broad chest has well sprung ribs. The tail that is set on high can be cropped to 1/3 of its length or left naturally. Undocked tail is carried upwards over the back but not curled over. The Petit Brabancon is a small dog with a big personality. This breed makes a wonderful companion as they are very cheerful and lively.