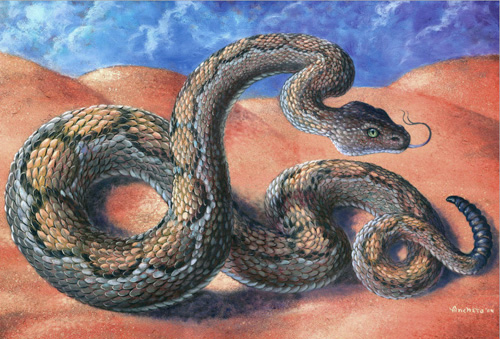 Rattlesnake Oil Painting

Rattlesnake with triangular head and the scales haveb golden diamondback marks bordered with black, with tail is circled by several black band, backgrounds with red sand and blue sky, landscape rectangle format - oil painting on canvas.
ABOUT Rattlesnake

Rattlesnakes are a group of venomous snakes of the genera Crotalus and Sistrurus of the subfamily Crotalinae ("pit vipers"). There are 32 known species of rattlesnake, with between 65-70 subspecies, all native to the Americas, ranging from southern Alberta and southern British Columbia in Canada to Central Argentina.
Rattlesnakes are predators who live in a wide array of habitats, hunting small animals such as birds and rodents. They kill their prey with a venomous bite, rather than by constricting. All rattlesnakes possess a set of fangs with which they inject large quantities of hemotoxic venom. The venom travels through the bloodstream, destroying tissue and causing swelling, internal bleeding, and intense pain. Some species, such as the Tiger Rattlesnake and the Mojave Rattlesnake, additionally possess a neurotoxic component in their venom that causes paralysis and other nervous symptoms.
The threat of envenomation, advertised by the loud shaking of the titular noisemaker ("rattle") at the end of their tail, deters many predators. However, rattlesnakes fall prey to hawks, weasels, king snakes, and a variety of other species. Rattlesnakes are heavily preyed upon as neonates, while they are still weak and mentally immature.