Arch Medieval Stone Wall - Faux fini
The design decorations for castle arch, masonry wall of hard stones and rough textures are derive from medieval architecture - building styles which used early in the middle ages, Roman wall construction are famous for its antiquity, prestige and elegance.
The theme is to replicate the old textured stone murals and masonry walls to create decoration impression of antiquity ruins. The design structure are separated in three elements of textured designs - the stone blocks cut bricks in the upper portion, the gray stone block borders and the wall tiles of light beige stone. The three elements are applied with the density of textures, with rough finish of style stucco textures.
The sketches sample presentation for a client are finest with faux fini of actual design and tangible textures.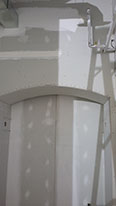 Arch medieval stone wall faux fini project.